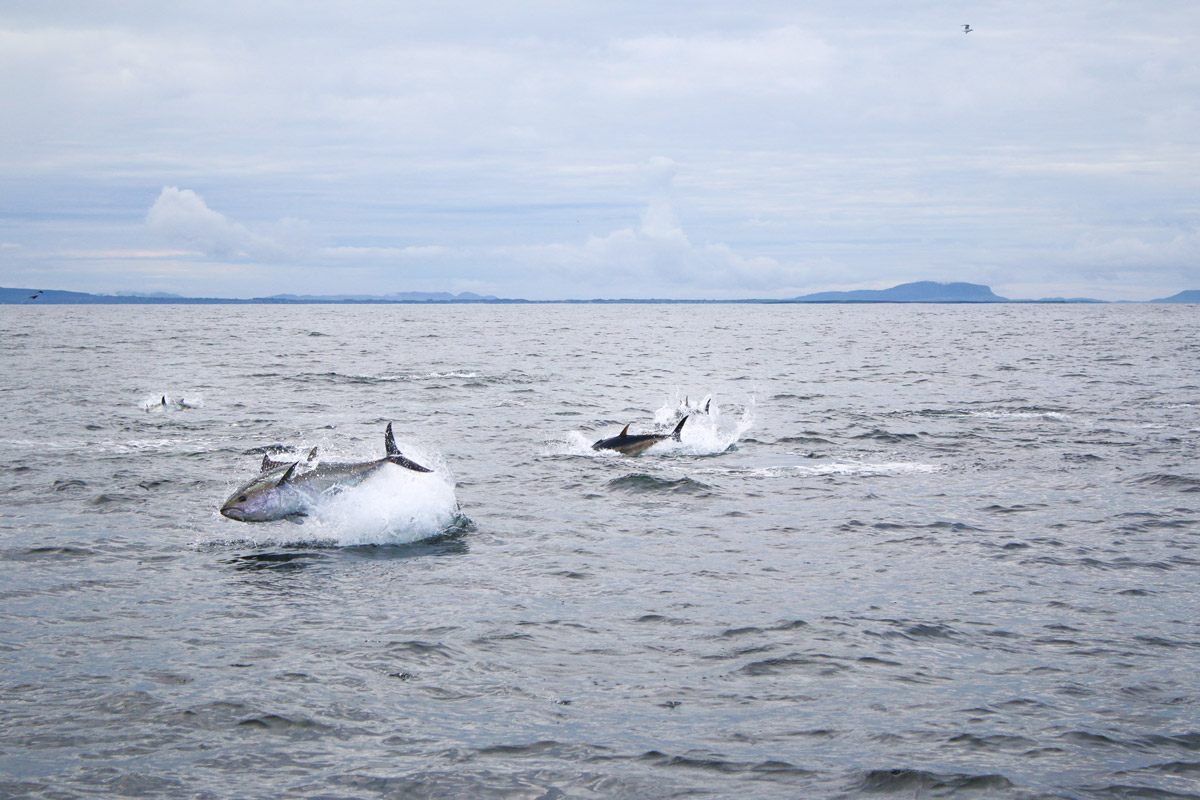  14th September 2018 
A landmark day for Irish big game angling occured recently (September 12th) off the Donegal coast, as skipper Adrian Molloy saw the 100th bluefin tuna (Thunnus thynnus) of the 2018 season brought to his boat and released! This is a new season record for an Irish boat and there's still plenty of fishing time left, with the bluefin season usually extending into November or even December, depending on weather and sea conditions. Fishing usually begins around the start of August each year.
The lucky captor of tuna number 100 was Kenny Williamson, who travelled from the Shetlands to experience, in his own words, the "world class fishing" for bluefin off Ireland's NW coast. Incredibly, Kenny's fish came on a good but not outstanding day for Adrian Molloy's boat, which saw six bluefin captured in total. Most were relatively small tuna by Donegal's standards, in the 200-250lb range, but a couple were estimated at around 350lb. As always, every fish was caught and released.
Speaking about his successful trip, Kenny said "Adrian is a gentleman who really knows his stuff and goes all-out to find the fish for you. The weather really wasn't kind for us, with a big westerly and a lot of swell but the Cougar Cat is a superb seaboat and an a amazing fishing platform. Being lucky to have had the first draw in a party of four and land a fat 220lb'er I was over the moon but the icing on the cake was getting my third turn of the trip on the second day. This resulted in a third tuna of the trip for me , and an incredible 100 for Adrian's 2018 season!" A still delighted Kenny told us that "It was truly a privilege to experience and I can't recommend the fishing or the skipper highly enough. Just book now and go! If you love fishing, you'll be blown away".
As glorified by television shows like Wicked Tuna, bluefin can fetch eye-watering amounts of money, especially in the Asian food market, although prices average €20-30 per kg. Japan are the world's biggest consumer of bluefin and traditionally the first tuna of the New Year auction in Tokyo fetches hundreds of thousands of euro.
Whilst much of the world seems intent on hunting bluefin to extinction to supply the luxury food (mostly sashimi) market, Adrian has long championed the very high economic value of a recreational bluefin fishery, arguing [quite rightly in our opinion] that these magnificent fish, which can grow to 1000lb or more and live for over 30 years, are worth far, far more when caught and released. Adrian pioneered the recreational bluefin tuna fishery off the Donegal coast and, in 2001, landed the largest fish ever caught on rod and line in Europe at 968lb. He has also assisted with numerous scientific tagging studies to help map the behaviour and distribution of bluefin to aid conservation efforts for the species, which is listed as endangered due to continuing declines caused by commercial overfishing.
---
Bookings for C&R tuna angling with Adrian Molloy are in very high demand but he is taking bookings for the 2019 season. Details at www.tuna.ie 