Chasing Irish giants – bluefin tuna
Adrian Molloy pioneered Irish bluefin tuna fishing and here he gives his thoughts on the future of the fishery
Issue 8 (Jan-Feb 2016)    Adrian Molloy
---
I first became aware of tuna in Ireland when I observed a number of giant ones on the quay in Killybegs, Co. Donegal in the early 1980s. These fish had been incidentally caught by the pelagic trawlers based there at a time, when the pelagic fishing industry was developing and unhindered by the strict quota regime that applies today.  I was amazed at the size of these fish and wondered about the possibility of ever catching one of these monsters on rod and line. It wasn't until 1986 that I first observed bluefin tuna in the wild, when, one beautiful August day whilst shark fishing in Donegal Bay, I saw a school of "dolphins" in the distance about two kilometres from our drifting boat. Over the next hour of so this school came closer and closer until it became obvious that it was not dolphins but tuna!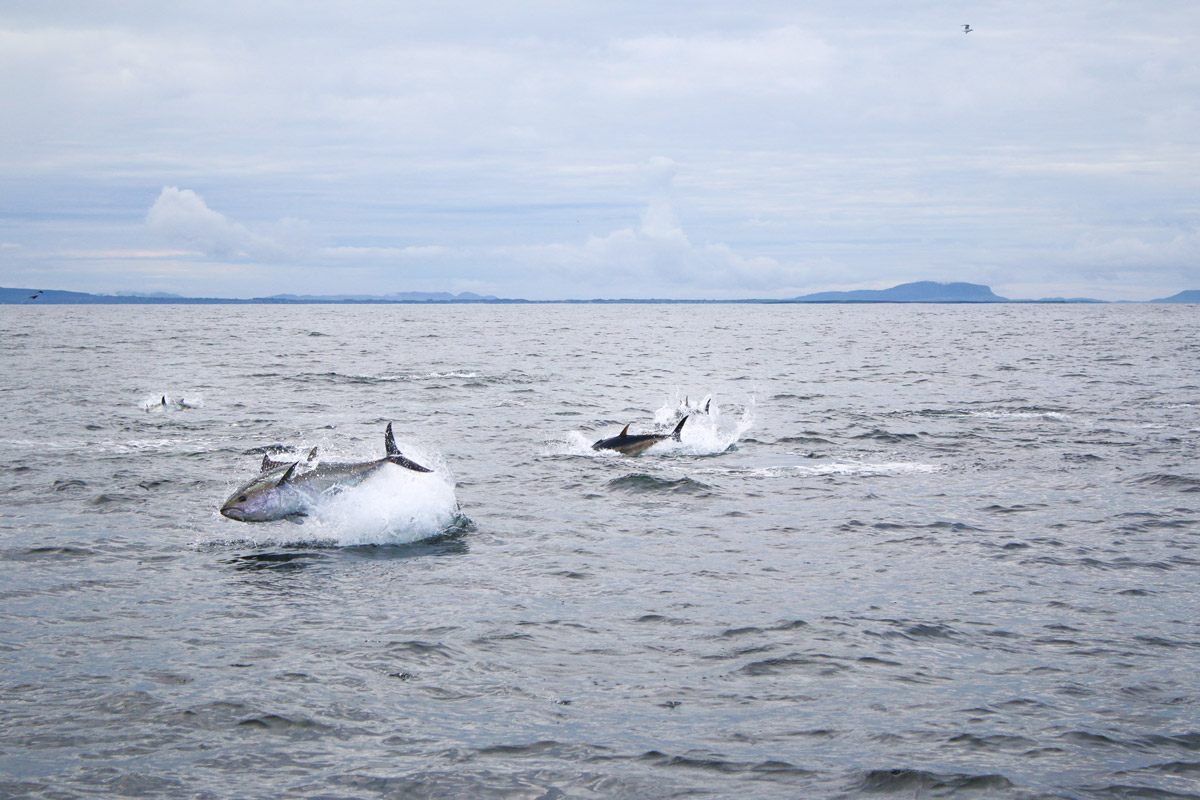 I did not see another large shoal of tuna until 1997, when large shoals stayed in Donegal Bay throughout September and October. Despite my attempts to catch them they remained elusive. In 1998 and 1999 tuna again showed throughout the bay in fairly large numbers and resisted all our efforts to catch them. I have to be honest here and admit that my vision at the time was obscured by the dollar signs swimming alongside me, having heard of the huge prices that these fish can at times secure.
It wasn't until the following year that the first bluefin tuna was caught on rod and line by Alan Glanville from Dunmore East, who hired Brian McGilloway's charter boat fishing out of Killybegs and caught a bluefin on their first day out!! That proved that these elusive devils could be caught on rod and line and from there the fishery commenced. In the following years catch rates improved and some very large fish were caught.
Contrary to popular belief tuna are not a rare visitor to Irish waters and a number of tuna species frequent Irish waters in the summer and autumn months. Bonito can be seen inshore in July and August and Albacore come as far north as Mayo and Donegal in warm summer months. Giant bluefin arrive all along the west coast in large numbers from the middle of August through to late November.
In my opinion, global warming or climate change has little or nothing to do with the current migration patterns of bluefin, in particular. There is plenty of anecdotal evidence along the west and North West coasts dating back to the mid 1800's of the "ronnach mór" or big mackerel tearing fisherman's nets. Bluefin are driven to feed and it is the ready availability of oil rich prey like herring, mackerel, scad and saury garfish that bring bluefin and other tuna species to Irish waters.
"Contrary to popular belief tuna are not a rare visitor to Irish waters and a number of tuna species frequent Irish waters in the summer and autumn months"
A rod and line fishery for bluefin existed in the UK along the north east coast around Scarborough until the Second World War. However, this fishery ended with the advent of large scale pelagic trawling after the war and by the early 1950's the herring stocks had been decimated to the extent that the bluefin tuna no longer came to feed.
Subsequently a commercial bluefin fishery existed in Norwegian waters  from the 1960's through to the 1970's, this fishery also ended with the overfishing of the Norwegian capelin stocks, again a major food source for tuna. (Norway was allocated a quota of 27 tonnes of bluefin for 2014).
Bluefin tuna numbers declined dramatically in the North East Atlantic from 2004 to 2009 due to serious overfishing in the Mediterranean. It is now accepted that in the years 2002 to 2006 between 40,000 and 60,000 tonnes of bluefin tuna were being caught annually despite the annual European quota being set at 23,000 tonnes.  New regulations were introduced in 2009 cutting the quota in half and enforcing new regulations and controls on the fattening farms and fishing vessels involved in the industry. Unsurprisingly, this led to a very rapid and substantial recovery in the numbers of bluefin again visiting the coast of Ireland by 2012.
There is also no doubt that the control of the pelagic sector in Ireland has led to an abundance of herring, mackerel and scad in Irish inshore waters and this combined with lower quotas for bluefin has led, in recent years, to a marked increase in the numbers of tuna visiting Irish waters.
Tuna fishing offers the most exciting, exhilarating angling experience available in the UK and Ireland to catch similar fish most anglers would have to travel thousands of miles and expend huge amounts of money on. In 2015 a number of charter boats in Ireland caught in excess of twenty bluefin tuna with the top vessel operated by yours truly catching over sixty for the season, a world class angling achievement in my view. To see hundreds of massive tuna busting the surface while feeding is an awe inspiring experience that should not be missed! This can be observed on a regular basis throughout the months of August to October in Donegal.
However there are some difficulties in fishing for tuna in Ireland. Whilst Ireland does have a substantial commercial quota for albacore tuna, a small proportion of this quota would need to be set aside for the purposes of recreational fishing. Ireland does not have a quota for the larger bluefin; therefore they cannot be targeted directly for sale or personal use. Also if a catch and release fishery for bluefin is to be supported a small quota is required to cover any post-release mortalities. The obvious solution is for part of the by-catch quota available to Ireland to be set aside to cover any possible mortality from a catch and release fishery for bluefin. At the moment all quotas for tuna are allocated on a regional basis by the International Commission for the Conservation of Atlantic Tunas (ICCAT). The EU has an annual quota for bluefin tuna which is divided out among those member states that have a "history" of catching the species. Ireland and the UK do not have such a history and have not been allocated any part of the quota. It is extremely unlikely that any of the member states that do have a quota will relinquish any of it in order to pass it to Ireland or the UK for recreational fishing. ICCAT will not allocate any additional quota for a recreational fishery in Ireland as they quite rightly state that the EU has the majority of the European quota and should manage the distribution of that quota.
"It is extremely unlikely that any of the member states that do have a quota will relinquish any of it in order to pass it to Ireland or the UK for recreational fishing"
There is a bycatch quota of around thirty tonnes available to member states that do not have a fixed quota for bluefin, i.e. Ireland, UK. However, the Irish authorities have decided that this by-catch quota can only be availed of by those Irish commercial boats fishing for Albacore tuna and that it can only be claimed on a 1% basis. A simple solution for the recreational fishery in Ireland is for the authorities to set up a licensed fishery on a catch and release basis restricted to licensed angling boats and for full records to be kept on the numbers of tuna caught and released. Then, using the accepted scientific level of a 5% post-release mortality, this could be set against the existing (unused) by-catch quota. There would be no need for additional quota or re-distribution of the existing quota.
Sadly though, if past history is anything to go by when it comes to dealing with the EU, I think it is unlikely that the Irish authorities will do anything to promote a C&R tuna fishery!
Adrian Molloy